ASOM v10 – Define kinematic systems using parametrics
You want to design a completely new linkage? Or modify or optimize an existing one? With the kinematics software ASOM v10 you can now also use parametrics to describe your kinematic system even more conveniently.
Overview of the most impor­tant functions of ASOM v10
Save time and nerves when dealing with complex problems
Engineers are well aware of this fact: kinematic problems can be very time-consuming. The slightest changes can quickly cause your entire concept to spiral out of control. If forces, mounting zones, and other restrictions also have to be taken into account, it can often take months to find a viable solution. ASOM, on the other hand, has adopted the strategy of automatically maintain various partial aspects of a solution in order to reduce the complexity of the problem as much as possible for you.
For this purpose, ASOM v10, in addition to offering familiar features like geometric syntheses and the holding-load synthesis, now also lets you define your system at the beginning of the simulation via parametric dimensioning. And the use of parametric dimensioning elements is not limited to just that. They can also be of use later, during the simulation, e.g. to measure arbitrary parameters directly and comfortably.
Visual results in real time - or even faster
See how your measured parameters, your secondary constraints, your graphs, and previews for your system's final state or intermediate positions respond to your inputs in real time. The effect of every change you make is computed, simulated and visualized in real time. This makes the development process immediately tangible and intuitively understandable, and allows you to quickly test out entire parameter ranges or mounting zones. Understand quickly and interactively what possibilities your system has - or does not have - and act accordingly.
In ASOM v10, the diagram system in particular has gained a lot of new functionality that now makes it much easier to re-work existing diagrams, introducing ways to move and copy graphs between diagram windows. Creating groups of similar graphs has also been made even easier and more task-oriented in ASOM v10.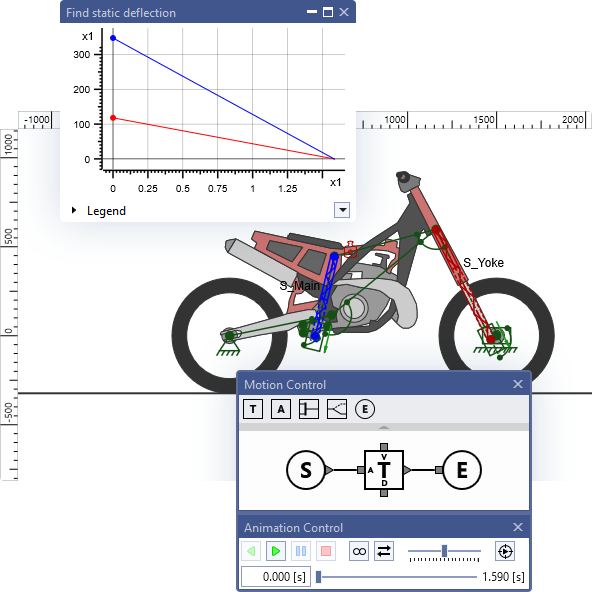 Create realistic presentations quickly and intuitively
You can import DXF files or images to include sketches of your components in the simulation. This way, you can easily include mounting zones and surrounding structures or attach corresponding sketches to moving components to give them realistic shapes. If only simple shapes are required, you can also use our graphical elements to add shapes. This will allow you to quickly get a detail-rich simulation to present your solution.
In ASOM v10, use the extended playback options for simulations to create closed motion cycles even faster and easier, e.g. for presentation, or change the camera position to make relative movements of parts more visible.
By the way: not only DXF files and images can be imported, but also polygons and curved guides. And all these things can also be re-exported individually, e.g. to reuse them in a new project. Likewise, you can export any diagram data, as well as the complete geometry of a project as DXF, e.g. to evaluate it externally or to transfer it to CAD applications.
Do you already know our training courses?
We offer different training options, both on site and online, so that you can use the full range of functions of our kinematics software ASOM.
Calculate forces any way you want - even parallel scenarios in comparison
Use our force calculation and the related tools to enter known forces and let ASOM determine the unknown forces. You just have to specify where and how an unknown force should act. Compare alternative force scenarios and/or different environmental conditions in the same project, or even in the same diagram. In addition to that, we also support both constant and joint force-dependent friction in joints, as well as inertia effects on elements with mass and tolerances in force elements.
In ASOM v10, use the revised load groups for optional forces and holding-load groups for systems with multiple degrees of freedom to structure your force systems even more directly and intuitively. Use the revised contexts for diagrams to create graphs for specific force scenarios even more comfortably. In addition, all drives now already contain corresponding holding-load properties, so you can define your force systems with fewer elements and less potential for error.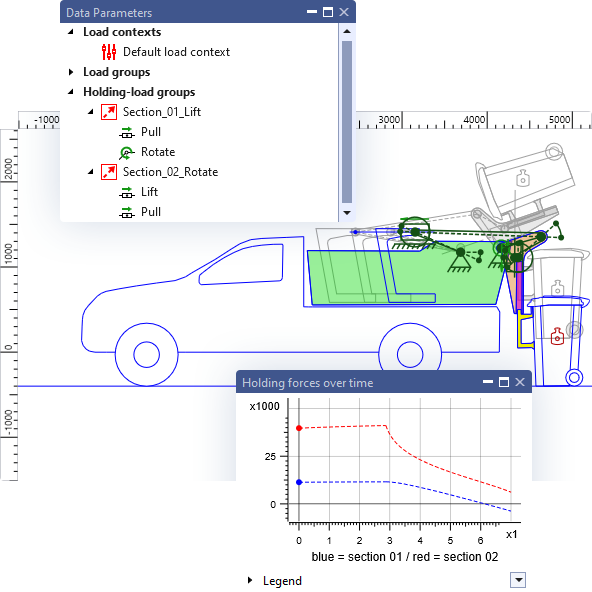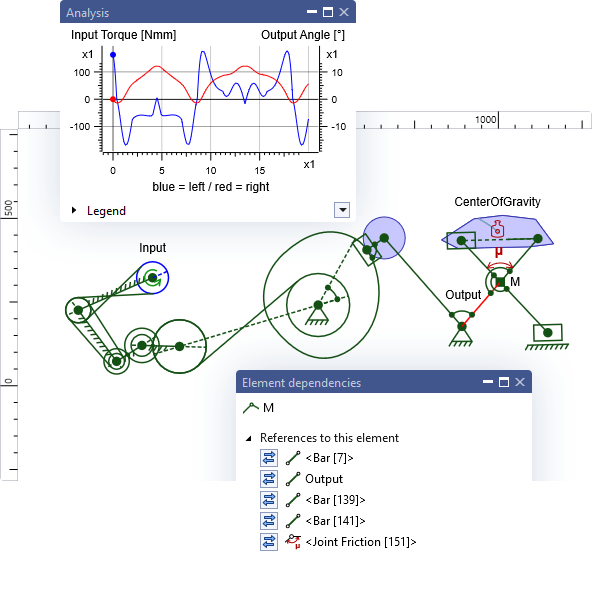 All kinematic blocks, at any time, at the push of a button
Use the full range of 2D kinematics for your simulation: gear pairs, belt drives, racks, spline rails (curved guides), conditions for rolling connections of any two contours ("travel connection") and more. You can use all these components or kinematic conditions in ASOM and simulate resulting linkages of any complexity with any degree of freedom.
Benefit from the newly designed rails in ASOM v10 to more easily create rails with multiple sliders and sliders connecting multiple rails. Together with the new parametric dimensioning elements, you can also control curved guide contacts much better than before. You can furthermore use the new interpolative handles to make spline design even easier and smoother. In addition, the actual joint topology can now be defined automatically or manually in all revolute joints, so that there are no longer any ambiguities when retrieving joint forces or placing friction elements.
Get in contact
Request an online presentation of ASOM – completely without obligation.
Net meeting
In an online meeting, we demonstrate ASOM to you and answer your questions.
Evaluate
If you order our basic training course, you can then try out ASOM for free for three months.
Purchase license
After the evaluation phase, you decide whether you want to purchase a license or not.
Elegantly create complex motion sequences with the new drive control
The completely revised drive control in ASOM v10 now makes it possible to define partial movements asynchronously and to synchronize them only optionally. Loops and alternative motion sequences are now also possible, while the familiar principle of condition-controlled activation of drives has been retained. With the extended drive functions, now including accelerations, you can now also define e.g. velocity trapezoids.
In the newly added simulation log you will find information not only about events in the drive control, but also in the entire simulation, such as e.g. the exact reason why a simulation was terminated.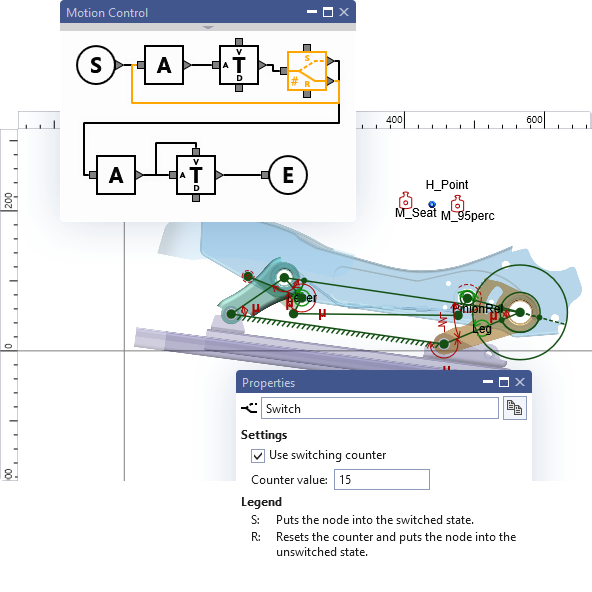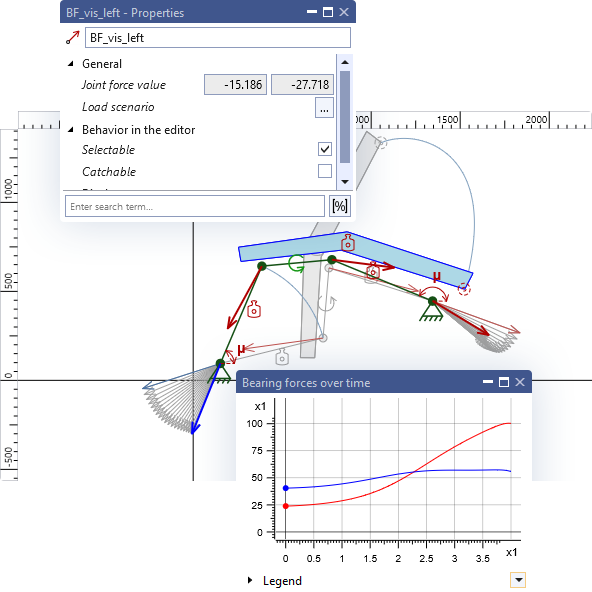 The redesigned user interface facilitates working efficiently, even in teams
ASOM v10's user interface (UI) is now even more customizable to meet the needs of individual users. This includes, among other things, the introduction of themes (light/normal/dark) and the new project settings, which e.g. allow full user control over all colors in the canvas area. Together with the new template system, this allows you to create and maintain fully customized UI variations for individual users or even teams/user groups.
The project settings are now also the place where all simulation parameters that can be influenced by the user are collected. In addition, the former layer feature has now been integrated into the element tree in the form of a folder hierarchy in order to get closer to the operating concepts of typical CAD programs. And on the canvas, the visualization elements have been revised to give you better control over them and to allow for new visualizations, e.g. of joint forces.
ASOM v10 is exactly what you have been looking for? We look forward to hearing from you.
Just contact us, without any obligation, so that we can get to know each other and discuss details at an initial net meeting. We will also be happy to address your individual requirements and to resolve any open questions.