ASOM – your user-friendly kinematics software​
An intuitive kinematics software for mechanism design and general simulation of multi-bar linkages. ASOM v10: Well-designed and practice-oriented features for the best possible results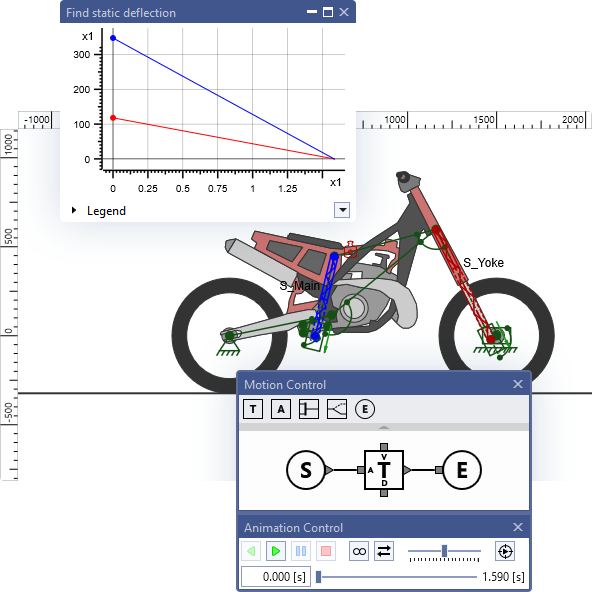 Save time and nerves
Kinematics projects can be real time sinks. Even the smallest changes can cause your entire concept to spiral out of control.
Visual results - faster than in real time
Every change you make to your project is calculated, simulated and visualized in real time - or even faster.
All kinematic components at the push of a button - at any time
Use the full range of 2D kinematics for your simulation: gear pairs, belt drives, rack-and-pinions and many other components.
The new user interface for working more efficiently
ASOM v10's user interface (UI) is now even more customizable to meet the needs of individual users.
Example videos
With our example videos we will show you how easy and uncomplicated it is to use ASOM v7 and ASOMmini. Even for more complex problems, you will be able to quickly find an adequate solution.
This example of a rolling bridge in ASOM v10 demonstrates how variants in the extended motion control and multiple shadow previews can help you better understand a model without having to play back the simulation completely after each modification.
The areas of application of our kinematics software are just as diverse as it is itself
Pedestrian protection, tailgate, spoiler, pedals, door handle, folding seat and much more.
Office chairs, cupboard doors, folding door systems, furniture hinges, folding tables and much more.
We would be happy to present ASOM to you live in an online demo session
You are interested in our kinematics software ASOM, but you are not yet sure if it will meet your requirements? Please contact us. We will present our software to you, without any obligation, in an interactive net meeting and will be happy to also answer your questions.